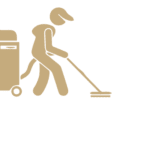 Deep cleaning is essential for protecting the look and feel of your carpets and upholstery. It also increases the longevity of these important assets. Our expert technicians will customize their cleaning approach based on the type of fabric and composition of any stains.

We use professional eco-friendly cleaning agents that leave your carpets and upholstery clean and fresh without damaging them.
Our vacuums use HEPA and ULPA filtration to capture microscopic dust and allergens and leave three times fewer particles in the air.
We make sure to use green chemicals and biodegradable products to produce a minimal ecological footprint.
To learn more about our specialized solutions or to request a quote kindly use the form below or contact us at Toll Free: 800 8200.
Services Carpet Upholstery and Cleaning